Birthday Roses - Celebrate Good Times and Another Year. There's nothing quite like the moment you receive a fresh bouquet of birthday roses and balloons. The invigorating scent of the blooms, the vibrant shades of color, and unparalleled beauty creates an unforgettable and luxurious experience. From classic red roses to bright pink ones, finding a way to show someone you care on their special day is simple yet incredibly meaningful. Whether they're given as a surprise or used to decorate any celebration, birthday roses are always sure to bring a smile! Look at our special birthday rose collection.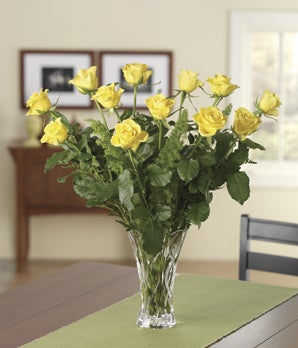 This magnificent arrangement of one dozen long-stemmed brightly colored yellow roses makes a wonderful gift for anyone in your life! Arranged in an exquisite Lenox crystal ribbon vase. Includes:..
Showing 1 to 1 of 1 (1 Pages)
Birthdays are a special time to remember thoughtful gestures that show someone how much you care. Nothing expresses best wishes quite like beautiful, happy birthday roses and colorful balloons. Create an unforgettable moment by surprising your loved one with an arrangement of bright and cheerful roses, in combination with festive balloons streaming overhead. Whether it's a simple bouquet or an extravagant display, there is no better way to say "Happy Birthday!". These little details will make the day even more special and the memories will surely last for years to come.